Hey guys!
Well, I got the news that I will be moving to 4th grade next year. I have mixed feelings about it, but I have taken the opportunity to explore new things and start a new blog.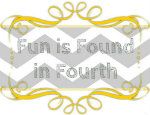 I will be posting things for all grade levels periodically, so come check it out!
Here is something I shared today. I am going to be putting together content area binders to organize my materials for the coming year. Here they are for you to enjoy!
See you around!
-Becca
<a href="http://funisfoundinfourth.blogspot.com/">Fun is Found in Fourth</a>
<a href="http://simply2ndresources.blogspot.com/">Simply 2nd Resources</a>